The ninth day of songs in this series. Sorry for the break that I took as I wasn't feeling up to it. I had been giving you songs by only male singers so far and even though some of the best, such as KL Saigal's and Pankaj Mullick's, were yet to come, I had decided to interject songs of female singers too. The first one was Lata Mangeshkar with a song about sacrifices of jawans in 1962 Sino-Indian War, which became her signature tune even though she didn't believe in it to start with.
I have been giving you Raaga Based Songs of the Day (eg, 'Raaga Based Song Of The Day #78') for the last nearly three months now. Many of you, who know your music well, have at times pointed out that a particular song, though ostensibly close to one raaga has traces of other raagas or has deviated substantially from the chosen raaga. I have readily admitted that, pointing out that it is not the job of the film songs composers to stick to the purity of any raaga. Their job is to produce tunes that would be popular and would tug at the emotions of the listeners.
With that in mind, I started a new series eight days ago to give you songs that tug at your emotions even when they are not based on any raagas.
These are the songs that stay in the creases of your mind long after you last heard them, somewhat like the strains of the song of The Solitary Reaper by William Wordsworth.
I also feel that these are the songs that make you wonder whether the lyrics influenced you more or the composition or is it the composition that made you look at the beauty of the lyrics?
The first of these was put together by lyricist Shailendra and composer Salil Chowdhury and singer Talat Mahmood for the 1957 Dulal Guha movie Ek Gaon Ki Kahani starring Talat Mahmood, Mala Sinha and Abhi Bhattacharya: Raat ne kyaa kyaa khwaab dikhaaye ('Songs That Tug At Your Emotions – Song #1').
Our last one, that is the eighth one, was put together by lyricist Kavi Pradeep, composer C Ramchandra and singer Lata Mangeshkar not for any movie but to recall the sacrifices of those jawans who lost their lives in the 1962 Sino-Indian War ('Songs That Tug At Your Emotions – Song #8').
Today, we shall cover Asha Bhosle, Lata Mangeshkar's younger sister, the one who lost the opportunity to sing Ai mere watan ke logo with the latter.

You would have noticed that I didn't put up posts for the last four days since I was busy in the monthly thematic Music Fest on my group 'Yaad Kiya Dil Ne'. This month's fest was on my favourite theme: Chand, with the difference that in addition to the word Chand in the mukhada or antara of the song, the song's video should have Chand in it. I don't participate as a contestant since I am usually the judge. However, I put up posts 'out of contest' just to add interest. My last post in the last Fest was the song 'Tanha tanha yahan pe jeena ye bhi koi baat hai' sung by Asha Bhosle on the lyrics of Mehboob and composition of AR Rehman (this being his debut Hindi movie). She was 62 years old at that time, singing for Urmila Matondkar, one third her age. And she oozed sexiness. That's Asha Bhosle for you with her forever young and sensuous voice. She was the favourite of OP Nayyar and he stopped composing the moment she went out of his life.
However, I am one who thinks of Asha Bhosle as a complete singer and not just a singer of sexy and sensuous numbers. Have a look at some of the sad and serious numbers that she has sung: Phir thes lagi dil mein phir yaad ne tadpaaya (Kashmir Ki Kali), Ye khaamoshiyan ye tanhaayiyan mohabbat ki duniya hai kitani jawan (Ye Raaste Hain Pyaar Ke), Wo subah kabhi to aayegi (Phir Subah Hogi), Tang aa chuke hain kashm-e-kash zindagi se ham (She sang the same song of Sahir Ludhianvi in 1958 movie Lighthouse as was sung by Mohammad Rafi in 1957 movie Pyaasa), Sun le pukaar aayi (Phool Aur Patthar), Sawan aaye ya na aaye (Dil Diya Dard Liya), Sach huye sapne tere (Kaala Bazaar), Raaton ko chori chori bole mera kangana (Mohabbat Zindagi Hai), Raat ke hamsafar thak ke ghar ko chale (An Evening In Paris), Puuchho na hamen ham unake liye kyaa kyaa nazraane laaye hain (Mitti Mein Sona), Piya piya na laage mora jiya (Phagun), Mujhe gale se laga lo bahut udaas hoon main (Aaj Aur Kal), Mere bhaiya mere chanda mere anmol ratan (from the same movie Kaajal from where I have selected today's song), Main jab bhi akeli hoti hoon tum chupake se aa jaate ho (Dharmputra), Koi aaya dhadkan kehati hai (Lajwanti), Koi shikwa bhi nahin koi shikaayat bhi nahin (Neend Hamari Khwaab Tumhaare), Kali ghata chhaye mora jiya tarsaaye (Sujata), Jab chali thandi hawa (Do Badan), Jaa jaa re jaa saajana (Adaalat), Ik pardesi mera dil le gaya (Phagun), Ham intezzar karenge tera qayaamat taq (Bahu Begum), Ham tab simat ke aapki baahon mein aa gaye (Waqt), Do ghadi woh jo paas aa baithe (Gateway Of India), Dil ki tamanna thi masti mein (Gyaarah Hazaar Ladkiyan), Dekh hamen awaaz na dena (Amardeep), Chain se hamako kabhi aap ne jeene na diya (Pran Jaaye Pazr Vachan Na Jaaye), Chand sa mukhada kyun sharmaaya (Insaan Jaag Uthja), Bachchon tum taqdeer ho kal ke Hindostan ki (Didi), Aur is dil mein kyaa rakha hai (Imaandaar), Ashkon mein hamane tasveer banayi hai (Dekh Kabira Roya), Ab ke baras bhej bhaiya ko babul (Bandini), Aapse maine meri jaan mohabbat ki hai (Ye raat phir na aayegi), and Aaj ki raat badhi shok badhi natkhat hai (Nai Umr Ki Nai Fasal).
The ghazals that she has sung include: Rafta rafta woh hamaare dil ka saaman ho gaye (Ham Kahan Ja Rahen Hain), Raaz-e-dil hamase kaho ham to koi gair nahin (Teri Talaash Mein), Kisi nazar ko tera intezaar aaj bhi hai (Aitbaar), Kabhi kisi ko mukammal jahan nahin milata (Ahista Ahista), Dil cheez kya hai aap meri jaan leejiye and In aankhon ki masti ke mastaane hazaron hain (Umraao Jaan), Beqasi hadd se jab guzr jaaye (Kalpana), and Aur kya ahd-e-wafa hote hain (Sunny).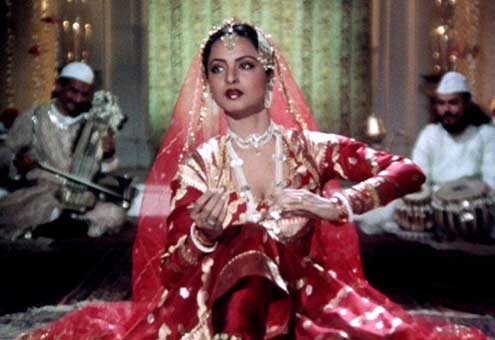 Then she has sung many a bahajan such as: Saancha naam tera (Julie), Shyam abhimaani (Geet Gaata Chala), Radha kaise na jale (Lagaan), Mujhako bhi Radha bana de Nandlal (Ankahee), Jay Raghunandan jay Siyaram (Gharana), He Ambike Jagdambike (Baawri), Ganpati bappa morya (Hamase Badhkar Kaun), and Bhagwan teri duniya mein insaan nahin hain (Rail Ka Dibba).
No other song of Asha Bhosle so ably meet the criteria that I have set for these series other than my selected song. It is one of the best and most meaningful bhajans in the movies. It has been penned by Sahir Ludhianvi, the poet and lyricist who felt for women more than others because of the hardships that his mother had to face when his father married again. He didn't write as many bhajans as my favourite Shakeel Badayuni. However, some of the bhajans that he penned are very good indeed, eg, Allah tero naam Ishwar tero naam, Prabhu tero naam jo dhaye phal paaye, Ishwar Allah tere naam, and Ganga tera paani amrit.
I am fond of Music Director Ravi Shankar Sharma or simply Ravi, not just because he is my namesake. First of all, he was the discovery of my favourite Hemant Kumar. Together with Kalyanji, he was assistant to Hemant da in the 1954 movie Naagin. The film included thirteen tracks, including the hit 'Man Dole Mera Tan Dole', whose 'Been Music' was performed by Kalyanji on clavioline and by Ravi on harmonium. I am also fond of Ravi for having got two of the three Filmfare Awards for Best Lyricist: Chaudhvin ka chand ho and Husn waale tera jawaab nahin. The instrument Sitar figured in many of Ravi's songs, just like the one that I have selected for you tonight. Ravi was known for bringing poignancy of some of his songs to the fore through his excellent compositions. The song that comes to mind is Shakeel Badayuni's Do Badan song picturised on Asha Parekh and sung by Lata Mangeshkar: Lo aa gayi unaki yaad woh nahin aaye.
The song Tora man darpan kehlaaye is from the 1965 Ram Maheshwari movie Kaajal and is picturised on Meena Kumari as Madhavi (the story of the movie was adapted by Phani Majumdar and Kidar Sharma from Gulshan Nanda's novel Madhavi) and Durga Khote as Rani Sahiba. The movie's starts with this song through its credits.
The bhaav of the song is the same as in our scriptures especially in the Sri Guru Granth Sahib, viz, Man jeete jag jeet (Conquer your mind to conquer the universe). It has been appropriately composed in Raag Darbari Kanada, Tal Kaherava.
Please enjoy Asha Bhosle sing: Tora man darpan kehlaaye….
प्राणी अपने प्रभु से पूछे किस विधी पाऊँ तोहे
प्रभु कहे तु मन को पा ले, पा जयेगा मोहे
तोरा मन दर्पण कहलाये – २
भले बुरे सारे कर्मों को, देखे और दिखाये
तोरा मन दर्पण कहलाये – २
मन ही देवता, मन ही ईश्वर, मन से बड़ा न कोय
मन उजियारा जब जब फैले, जग उजियारा होय
इस उजले दर्पण पे प्राणी, धूल न जमने पाये
तोरा मन दर्पण कहलाये – २
सुख की कलियाँ, दुख के कांटे, मन सबका आधार
मन से कोई बात छुपे ना, मन के नैन हज़ार
जग से चाहे भाग लो कोई, मन से भाग न पाये
तोरा मन दर्पण कहलाये – २
तन की दौलत ढलती छाया मन का धन अनमोल
तन के कारण मन के धन को मत माटि मेइन रौंद
मन की क़दर भुलानेवाला वीराँ जनम गवाये
तोरा मन दर्पण कहलाये – २
I feel that Sahir Ludhainvi didn't just write this bahajan but carved out a piece of his heart. Each stanza makes you think about Life and our own conduct in it. Ravi's composition made it sacred, memorable and drove home the bhaav of the song. Asha's singing is – if I may use the word – flawless. I remember when I saw the movie as a young boy, I could remember the complete lyrics simply by listening to it just once. This bhajan often echoes in the depths of my heart.
I hope you enjoyed it too.
Please await tomorrow's song.
© 2017, Sunbyanyname. All rights reserved.